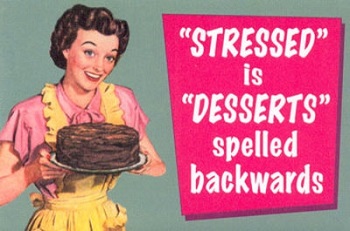 In the past eight months, not a single person has said, "Hey Jeff, you're letting yourself go a little bit."  This says a lot more about the quality of people I associate with than it does about me, because the fact is, I did let myself go a little bit.
I made a startling discovery this year: I am a stress eater.  The reason it was startling is because you don't expect to learn such basic things about yourself in your late 30s.  I assumed I knew all there was to know about my own personal weaknesses and vices.  But as it turns out, I had never had occasion to learn that I was a stress eater because the old me never differentiated between emotions — I was an all-the-time eater.  So yeah, I ate when I was stressed, but I also ate when I was calm or bored or excited or happy or sad.
I'm usually pretty good at dealing with stress, but earlier this year I encountered some pretty major work-related pressure that knocked me for a loop.  I endured that for about four months, until I left my job, at which point the stress was gone.  Unfortunately, during those four months, I had reacquired some of the bad habits that got me to 400 pounds in the first place.
So I spent four months stress eating, and then a few more months battling to break the bad habits again.  In that time, I regained about 40 of the 110 pounds I had lost.  I went back over 300, which I never wanted to do again.  I got to the point where only about 20% of my clothes fit me, and even those don't fit as well as I would like.
The good news is: I'm back.  I'm not back down to my pre-stress weight, but I am back on that path.  The habits have been broken.  The weight is slowly but surely dropping back off.  And I've learned a few things along the way.  Some of those lessons:
Information is not enough
French-born marketer and psychoanalyst Clotaire Rapaille wrote this in his book "The Culture Code":
Years ago, Tufts University invited me to lecture during a symposium on obesity…

Lecturer after lecturer offered solutions for America's obesity problem, all of which revolved around education. Americans would be thinner if only they knew about good nutrition and the benefits of exercise, they told us. Slimming down the entire country was possible through an aggressive public awareness campaign…

When it was my turn to speak, I couldn't help beginning with an observation. "I think it is fascinating that the other speakers today have suggested that education is the answer to our country's obesity problem," I said. I slowly gestured around the room. "If education is the answer, then why hasn't it helped more of you?"

There were audible gasps in the auditorium when I said this, quite a few snickers, and five times as many sneers. Unsurprisingly, Tufts never invited me to lecture again.
I know how to lose weight.  I know how to eat healthy.  I lost 110 pounds in a year doing it.  And yet … I gained 40 pounds in six months.
Knowing what to do is not good enough.  You have to set yourself up for success.  Here's an example of a simple little trick I learned: when I go to bed at the same time as my wife, I don't cheat on the food.  When I stay up after she has gone to bed, the craving and temptations often get to me.  Not every time, but they get me exactly zero percent of the time that I'm asleep in my bed.  So I made that my system — I go to bed when she goes to bed.  If I'm not tired yet, I read or watch something on my iPad or (like right now) sit up in bed and blog on my laptop.  It's not because when I'm in bed I have a firmer grasp on the science behind weight loss and gain — it's that when I'm in bed, I'm not close to the kitchen where all the food is.
It's hard to see slow, gradual process — but it's vital that you do
At my low point, I was down to 282 pounds.  That is 120 pounds lower than my high from the summer of 2008, 110 pounds lower than when I started this particular journey in October 2012, 50 pounds lower than I had been in nearly 20 years, and 30 pounds lower than when I graduated high school.  It was amazing and wonderful.  But when I looked in the mirror, all I could see was the 40-ish pounds I still "needed" to lose.  I was shopping in regular clothing stores instead of Big & Tall stores, but I was buying the biggest clothes the regular stores carried.  I was pleased with my progress, but I wasn't "there" yet, and that fact was always on my mind.
A couple weeks ago, I came across a photo from October 2013, when I was right around that low point.  And holy crap, I looked good!  With the benefit of perspective and an extra 40 pounds, I can look at that version of me and really appreciate how good I looked.  Not perfect, not at my "ideal" weight, and not poised to battle Thor Hemsworth for the Sexiest Man Alive title — but I looked good.
I hit a plateau at 282-285 pounds.  If I had had the perspective to appreciate my progress, how far I had come, that plateau wouldn't have been a problem.  As it was, the plateau was extremely frustrating for me, because I was focused on the 40 pounds I still needed to lose.  If I hadn't been frustrated, perhaps I would have resisted the cravings and temptations the stress brought with it.
So now, my current goal is to get back down to the 282 neighborhood.  And when I do, I will take a minute to appreciate it and know that if I spent the rest of my life at 282, I'd spend the rest of my life looking and feeling pretty darn good.
The weekly weigh-in is a blessing and a curse
On one hand, if I had weighed in weekly, I think it is highly unlikely that I would have allowed the weight gain to go on as long as it did.  If nothing else, the 300-pound mark would have been a slap in the face and got me back on track 20 pounds sooner.
On the other hand, knowing that I am weighing in on Saturday morning, if I mess up and cheat on (for example) Tuesday evening, then the rest of the week is shot for me.  "Well, I screwed up this week, we'll start again on Sunday."  Not every week during my backslide was bad — but if I gave in to cravings early in the week, you can bet that I would give in the rest of that week, too.
Everyone is on a diet
I hate the word "diet."  It carries an implication of temporariness.  People ask me, "Are you still on your diet?"  Well, I never started this with the idea of it being temporary.  This is what I do now.  Sometimes I am more successful at it than other times, but it's not because I have stopped.  So yes, I am still on my "diet," and I will be forever.
But I have learned to stop being annoyed by that word.  The fact is, we are all on a diet.  Diet just means "what you eat."  I used to be on the "I eat whatever I want whenever I want and I don't really think too much about it" diet.  Its results, like all diets, were quite predictable.  Now I am on the "Slow-Carb Diet," which is just a buzzwordy way of saying I don't eat foods that spike my insulin levels, and one day a week I eat whatever I want to reset my body and my brain.  Knowing that I have always been on a "diet" and will always be on a "diet" makes it easier to remain committed to the "diet" that has helped me lose a ton of weight and drastically improve my health.
***
So that's it.  I don't know if it will take me a month or six months to undo the damage I did in the middle of this year, but I don't really care, either.  I am excited to get back to a size where I can wear all the clothes in my dresser, but being back on the right path really is rewarding on its own.